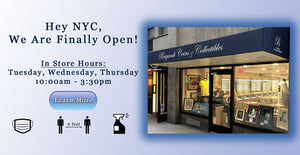 Dear Collectors, Starting next week (September 15th, 2020), we will be open to the public on Tuesdays, Wednesdays, and Thursdays from 10:00am – 3:30pm. Appointments are not necessary, but we do encourage calling ahead to ensure a private appointment, (212) 869-530. For your safety, in-store capacity will be limited, and social distancing as well as face coverings will be required. We will provide hand-sanitizer for all customers, and our showroom will be disinfected throughout the day. Curbside and in-store pick up will continue for orders placed online or by phone. Thank you for your continued patience, understanding, and support throughout...
---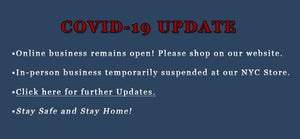 Dear Friends & Loyal Collectors, We hope you are staying safe and spending time with your family during these unprecedented times. We are writing to let you know the impact of COVID-19 to our family business. As of today, New York State is officially on "PAUSE" and we have suspended in-person operations at our NYC store. However, we are still open online and over the phone, and we are still fulfilling and shipping orders. As you find yourself with down time, we encourage you to check our newly listed items at BrigandiCoin.com and see what interests you. We are sincerely grateful for...
---
We are proud to announce BrigandiTV, our brand new video series, featuring detailed videos of the scarce, high-end items that walk through our door. We also produce instructional and educational videos for the novice collectors, to the most experienced dealers. New videos added every week! We take requests! If you would like to see a video on a particular item or topic, just shoot us an email or comment on one of the videos! info@brigandicoin.com Click BrigandiTV watch all the videos and also subscribe to our YouTube channel! 
---
Family and Friends,We've been scouring the marketplace all year long and our inventory this Holiday season is the best it's ever been! We've added so many outstanding items to our collection that we guarantee they will impress even the toughest person to please this Holiday season. Our curated collection makes finding a special gift for your family, business associates, and friends so simple. (Or just spoil yourself this year!)Our mission is always to provide unique, high quality and scarce collectible items that offer excellent value. As prices continue to move upward, in fact many beyond our wildest dreams, there still...
---
Is there a better piece of football memorabilia in existence? Vince Lombardi's Green Bay Packers coaching sweater is the HOLY GRAIL! With provenance from the NFL team owner who received it from the #GOAT himself, this one-of-a-kind sweater is the cornerstone to even the best football collections. Click here to see for yourself: Vince Lombardi Green Bay Packers 1965 Game Worn Sweater   Imagine watching the NFL Playoffs alongside the man for whom the championship trophy is named … For Edward Neill Williams, son of former Washington Redskins owner Edward Bennett Williams, this football fantasy became reality when he was just eight years...